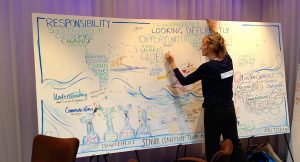 We listen to you and create a Big Picture Map of your meetings/conferences.
It's a high level view of what exists now and this high-level view creates high-level thinking.
It bridges you from reacting and problem solving towards creatively sourced solutions.
It brings out your innate creativity. It's contagious and gives others permission to do the same.
And then it multiplies…

CREATIVITY DEMANDS YOU DO SOMETHING DIFFERENT
is where the cracks appear, where the light gets in, and where creativity thrives.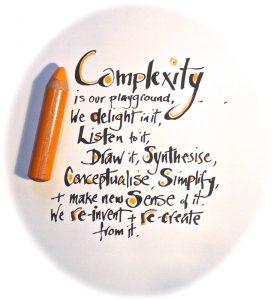 If you can't see the wood for the trees, are entwined in complexity, can't step back and disconnect or see the big picture, integrate, and synthesise, how are you going to see the way forward, redesign, innovate and evolve?